SEE WHERE THE LOCAL'S GO!
SHOWCASING THE BEST AROUND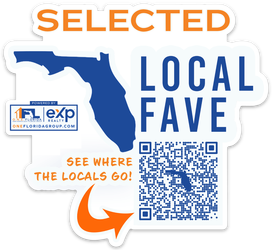 LOOK FOR OUR WINDOW DECAL!
At O.N.E. Florida Group, we're more than just a real estate team; we're ambassadors of the vibrant Northeast Florida community. Our 'Local Faves' initiative is our way of showcasing the exceptional, often undiscovered gems of our region. From quaint eateries to unique local shops, we highlight the best of Northeast Florida, not just for those new to the area but also for long-time locals seeking fresh experiences. This region is a treasure trove of destinations, thriving not only as a beloved tourist town but also as a community rich in hidden delights. We hope 'Local Faves' serves as a beacon, guiding both visitors and residents to explore and enjoy these remarkable local businesses, adding to the wonderful tapestry of experiences that Northeast Florida offers.
Know a Northeast Florida business that deserves recognition? Whether it's your own venture or a local spot you adore, we at O.N.E. Florida Group are eager to hear from you. Help us spotlight the best of our community by nominating your favorite for our 'Local Faves'. Just click the button below to get in touch. Your recommendations are key to enriching the tapestry of local treasures we share with both residents and visitors. Let's celebrate the unique flair of Northeast Florida together!